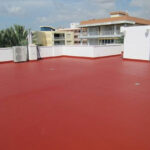 Trusted Terrace Waterproofing Services in Bangalore
Sanjana Enterprises offers terrace waterproofing services in Bangalore. Our proven techniques and high-quality materials for long-lasting protection for the terrace. Our terrace waterproofing services provide reliable and efficient solutions to protect your terrace from water damage. Our skilled professionals utilize proven techniques and high-quality materials to ensure long-lasting waterproofing. With our expertise, we deliver exceptional results that meet the specific requirements of our customers. Roofs and terraces are directly exposed to weather elements and are susceptible to leaks if not fully protected. To prevent leaks during downpours, we provide waterproofing services for porches and both level and slanting rooftops. We provide a variety of terrace waterproofing services in the Bangalore area. We promise to provide our customers with a unique, forceful response. Moreover, our terrace waterproofing services in Bengaluru are efficiently delivered quickly, utilizing reliable and proven materials. We strive to effectively cater to the evolving needs of our customers by providing exceptional terrace waterproofing services. Our highly skilled professionals meticulously assess all the relevant factors associated with the offered waterproofing services and execute them in an optimal manner, ensuring the utmost customer satisfaction.
Why Choose Our Terrace Waterproofing Services In Bangalore
In the past couple of years, we have established ourselves as one of the most renowned organizations dedicated to providing terrace waterproofing services across India. Without removing the current roof covering, the administrations cover existing level and sloped roofs. We charge reasonable prices for these terrace waterproofing services. We provide complete interior and exterior wall waterproofing services at affordable prices. Industrial and commercial roofing services, as well as terrace waterproofing services, offer solutions for all types of leakage issues. We intend to provide the greatest 1lakh of people in Bengaluru with the best Terrace Waterproofing service in Bangalore possible so they can enjoy and treasure their time at home without worrying about the seeping water. Thanks to the solutions that our dedicated staff offers, you will no longer have to deal with the annoyance of water leaking from your roof or from your terrace.

Our large product range can be employed on shifting concrete buildings and surfaces. The primary function of these chemicals is to preserve concrete from extreme climatic conditions, resulting in longer service life.
Frequently
Asked

Questions
What is terrace waterproofing?
Terrace waterproofing, especially in the context of Bangalore, refers to the process of applying protective coatings or materials to the surface of a terrace or roof in order to prevent water leakage and seepage. This service is vital in safeguarding structures from water-related damages, particularly in Bangalore's climate.
Why are terrace waterproofing services important, especially in Bangalore?
Terrace waterproofing services in Bangalore are essential due to the heavy monsoon rains, high humidity levels, and temperature variations. These factors can contribute to terrace leaks and structural deterioration. Waterproofing extends the lifespan of terraces, ensuring the safety and integrity of buildings in this specific climate.
Can I do terrace waterproofing in Bangalore myself, or should I hire professionals?
While DIY waterproofing products are available, it's strongly recommended to engage professionals for terrace waterproofing services in Bangalore. Incorrect application of waterproofing materials can exacerbate problems if not performed correctly. If you want to hire terrace waterproofing services in Bangalore then you can visit us https://www.sanjanawaterproofing.com/terrace-waterproofing.html
What is the cost of terrace waterproofing services in Bangalore?
The cost of terrace waterproofing services in Bangalore can vary widely based on factors like terrace size, the chosen method, the severity of the issue, and rates set by waterproofing contractors. It's advisable to obtain multiple quotes for an accurate understanding of pricing within Bangalore. Sanjana Enterprises offers budget-friendly terrace waterproofing services in Bangalore.
What types of terrace waterproofing methods are available in Bangalore?
A variety of methods are available for terrace waterproofing services in Bangalore, including liquid waterproofing coatings, bitumen-based membranes, polyurethane coatings, and cementitious coatings. The choice of method depends on factors like the type of terrace, budget, and the extent of damage, all within Bangalore's specific context.